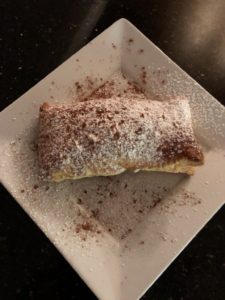 This elegant looking and tasting dessert will make an impression at your next gathering or cozy night at home.  The flavors of the season – apple, maple, walnut, and cinnamon – will be the perfect ending to your simple celebration.
Working with puff pastry is simple!  Make the professional looking crimp markings by using the tines of a fork.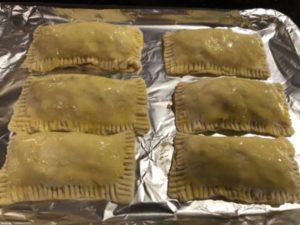 1 1/2 ounces unsalted butter
3 medium Granny Smith apples, peeled, cored, and chopped finely
2 T maple syrup
1 T sugar
1/4 t cinnamon
1/8 t allspice
1/8 t nutmeg
1/4 cup dried cherries
1/3 – 1/2 cup chopped walnuts
1 1/2 sheets puff pastry (found in freezer section)
1 egg, lightly beaten
Preheat oven to 425 degrees.  Melt butter in a large frying pan.  Add apples and cook about 5 minutes stirring occasionally until lightly browned.  Add maple syrup, sugar and spices to pan and cook about 5 more minutes or until liquid boils and caramelizes.  Transfer contents to a bowl, stir in cherries and nuts.  Cool 20 minutes.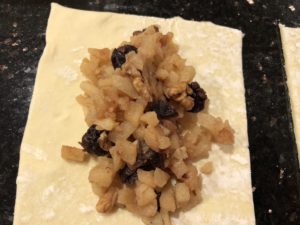 Cut the "whole" pastry sheet into quarters and cut the "half" sheet in half.  Spoon about 1/4 cup apple mixture along one half of the pastry squares.  Fold over to form rectangles, pressing edges and crimp with a fork to seal.  Brush with egg.  Make three slits in pockets.  Bake in oven for 10 minutes and check for golden color.  Continue to check until pastry is golden brown.
Makes 6 servings