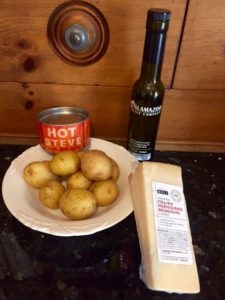 These smashed potatoes are easy and so good you need to be sure to have at least 4 per person.  The recipe below serves 2 people – maybe!!  We found this "Hot Steve" salt at William-Sonoma in the Ponce de Leon Market on the belt line in Atlanta.  It has a spicy chili flavor and was made right in Atlanta.  The garlic olive oil is from the Kalamazoo Olive Oil Shop located in our hometown, St. Petersburg, FL.  Purchasing a few local ingredients while you travel turns a normal recipe into something special!
8 small honey gold potatoes
Garlic olive oil
Spicy salt and fresh ground pepper
Freshly grated parmesan cheese
Preheat oven to 425 degrees.
Place potatoes in a pot and cover with salted cold water.  Boil water and cook potatoes until done, about 20 minutes.  Line a cookie sheet with parchment paper.  Place cooked potatoes on parchment paper and smash with the bottom of a juice glass.  Brush each potato with garlic olive oil and salt and pepper to taste.  Bake for 30-40 minutes, until crunchy.  Remove from the oven and sprinkle grated cheese over each potato.  Serve warm.  Serves 2.