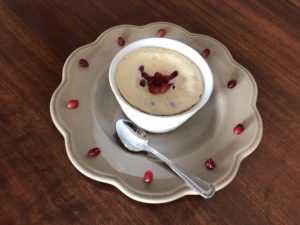 Sweeten up your Valentine's Day simple celebration with these tasty mini cheesecakes.  The simple ingredients and quick cooking time will keep you out of the kitchen and wrapped up in your sweetie's arms in no time!
6 round shortbread cookies
8 oz. low fat ricotta cheese
8 oz. low fat cream cheese
2 eggs
1/2 cup sugar
2 tablespoon fresh lime juice
1/2 teaspoon lime zest
2/3 cup pomegranate seeds (we found these at Trader Joe's)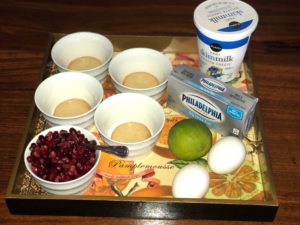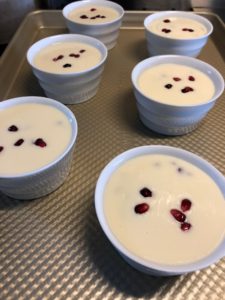 Preheat oven to 350 degrees.  Place one shortbread cookie in the base of 6 ramekins (5 oz size).  In a food processor, add the ricotta, cream cheese, eggs, sugar, lime juice and zest.  Process until the mixture is smooth and put into a bowl.  Stir in the pomegranate seeds.  Fill each ramekin 3/4 full (place a few seeds on top of each dish).  Bake for 20-25 minutes.
Serves 6