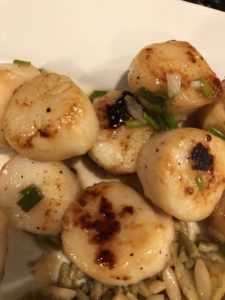 Scallops are elegant, delicious, and easy to prepare.  In less than 20 minutes – start to finish – you will elevate your simple celebration entrée to restaurant quality without the restaurant prices!  Next week we will publish an orzo recipe which is a perfect side to serve along with the scallops.
1 1/4-1 1/2 pound large sea scallops
1/4 t. freshly ground pepper
1/4 t. sea salt
5 T. unsalted butter, divided
2 T. chopped shallots
1/4 c. dry white wine
1/4 c. white wine vinegar
1 T. snipped chives
Remove tough ligament from the side of the scallops and sprinkle with salt and pepper.
Heat 1 T. butter in a non-stick pan over medium-high heat.  Sear scallops turning them once.  This will take about 5 minutes on a gas stove, or 7-8 minutes on an electric stove.  Once they turn a nice golden color, remove from pan, place on a plate and keep warm.
To the same pan, add shallots, wine and vinegar and bring to a boil.  Reduce until around 2 Tablespoons. You can also add the juices on the scallop plate for more flavor.  Reduce the heat to low and add the butter.  Stir the sauce until a nice consistency.  Add chives and stir.  Plate the scallops and top with the sauce.
Serves 4.