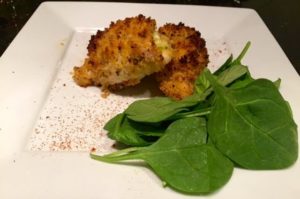 This recipe was inspired by Gina Homolka's cookbook, The Skinnytaste.  We added a few more spices to give it a little kick.  Using olive oil and lemon juice as the liquid for the breading process keeps calories down to about 200 calories per roll.  Spraying the chicken prior to cooking with cooking spray gives the breadcrumb coating a great crunch.  Fried chicken flavor with out the calories or mess!
Not only does this dish taste great, but it can be assembled and refrigerated in the morning and cooked at dinner time (let it sit on the counter for a half hour before putting into the oven).
Cooking spray (olive oil)
1 T plus 1 t olive oil
4 cloves garlic, chopped
1 1/2 whole zucchini, shredded*
1/4 c plus 2 T Parmesan cheese
1/4 t red pepper flakes
1/2 t plus 1/8 t kosher salt
Ground black pepper
3/4 c shredded part-skim mozzarella
8 thin chicken breast cutlets
1 c Italian seasoned panko bread crumbs
1/8 t cayenne pepper (more if desired)
Juice of 1 lemon
*Grate the zucchini over a paper-towel lined bowl to absorb moisture.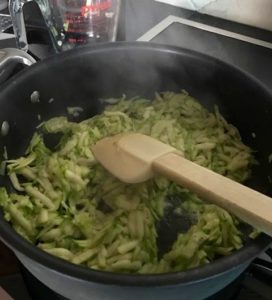 Preheat oven to 450 degrees.  Lightly spray a baking dish with cooking spray.
Heat a large skillet over medium-high heat.  Add 1 teaspoon of the oil and the garlic.  Cook until golden, about 1 minute.  Add the zucchini, 1/4 cup Parmesan, red pepper flakes, 1/8 teaspoon salt and black pepper to taste.  Cook until zucchini is tender, about 3-4 minutes.  Remove pan from heat and let cool to room temperature.  Add the mozzarella and mix well.
Arrange chicken cutlets on a cutting board.  Spread each cutlet with 3 tablespoons of the zucchini-cheese mixture.  Loosely roll up and set aside, seam side down.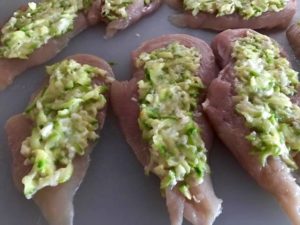 In a small bowl, combine the bread crumbs, cayenne pepper and remaining 2 tablespoons of Parmesan.  In a separate bowl, combine the remaining 1 tablespoon of olive oil, the lemon juice, the remaining 1/2 teaspoon salt and a pinch of black pepper.
Dip the rolled chicken in the lemon mixture, then into the bread crumbs, rolling to coat evenly.  Place the chicken seam side down in the baking dish.  Spray the tops of the chicken with cooking spray.  Bake until cooked through, 25 to 30 minutes.  Serves 4.