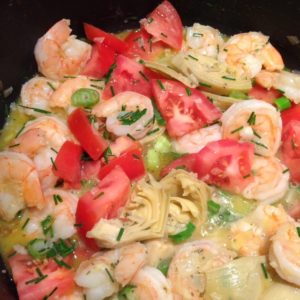 This elegant meal is restaurant quality, but won't break the bank!  Quite often frozen shrimp go on sale at the grocery store which helps keep the cost of this meal reasonable.  Be sure and stock up!  To defrost shrimp, simply put them in a bowl and fill with water.  In about 10 minutes, the shrimp will be defrosted and ready to go.
2T extra virgin olive oil
1/2 onion diced
1-2 cloves garlic diced
1 small jar marinated artichokes with liquid
2 T chives chopped
2T green onion chopped
1 large tomato cut into chunks or 10 – 12 cherry tomatoes cut in half
1/2 – 2/3 pound uncooked shrimp, peeled and deveined
Salt and pepper to taste
8 oz pappardelle or fettuccine noodles
Basil chopped
Parmesan cheese grated
In large pan, heat oil over medium high heat.  Add onion and garlic and cook for about 5 minutes.  Add artichokes with liquid, chives, green onions, and tomato.  Heat through until tomatoes start to break up.  In separate pan, sauté shrimp until pink – add salt and pepper to taste.  Add shrimp to artichoke mixture.  Meanwhile, cook pasta to desired doneness, 8-11 minutes.  Place cooked pasta on plate, top with shrimp mixture.  Garnish with basil and parmesan cheese.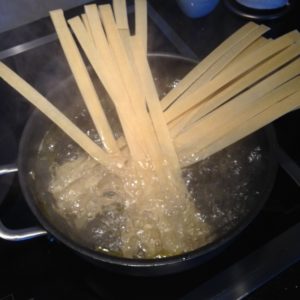 Serve with roasted asparagus.
Serves two plus.