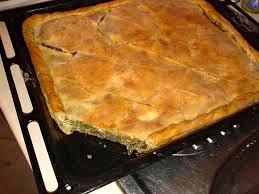 This recipe is not our own, but it is so wonderful, we had to share.  We are huge fans of Ina Garten.  She has excellent cookbooks (any one would make a great gift) and all of her recipes are delicious.  We made this dish for our mixology party and it turned out to be everyone's favorite that night.  This puff pastry makes a great appetizer, lunch, or light dinner when served along with a salad.
Here's Ina Garten's recipe:
4 

tablespoons

 unsalted butter

2 

cups

 

chopped onions

1 

tablespoon

 

chopped garlic

2

 

(10 ounce)

 boxes frozen spinach

, defrosted

1/3

 

cup

 

chopped green onion

1 

cup

 

grated Gruyère cheese

3/4

 

cup

 

freshly grated parmesan cheese

4 

extra large eggs, beaten lightly

1 

tablespoon

 

dry breadcrumbs (plain or seasoned)

2 

teaspoons

 salt

3/4

 

teaspoon

 freshly ground pepper

1/2

 

teaspoon

 ground nutmeg

1/4

 

cup

 

toasted pine nuts

2 

sheets

 frozen puff pastry

, defrosted overnight in the refrigerator

1 

extra large egg, beaten

1 

tablespoon

 water

, for egg wash
Preheat the oven to 375*F.
Sauté onions in butter over medium-low heat for 5 to 7 minutes until tender.
Add the garlic and cook for 1 minute longer.
Meanwhile, squeeze most of the water out of the spinach and place it in a bowl.
Add the onion mixture, scallions, Gruyère, Parmesan, eggs, bread crumbs, salt, pepper, nutmeg and pinenuts.
Mix well.
Line a baking sheet with parchment paper.
Unfold one sheet of puff pastry and place it on the paper.
Spread the spinach mixture over the pastry, leaving a 1 inch border.
Brush the border with the egg wash (egg and water).
Roll out the second piece of puff pastry on a floured board until it's an inch larger in each direction.
Place the second sheet of pastry over the spinach and seal the edges, crimping them with a fork.
Brush the top with egg wash, but don't let it drip down the sides or the pastry won't rise.
Make three small slits in the pastry, sprinkle with salt and pepper, and bake for 30 to 40 minutes, until the pastry is lightly browned.
Transfer to a cutting board, slice and serve hot!
Serves 8-10 as an appetizer or 6 for a meal.