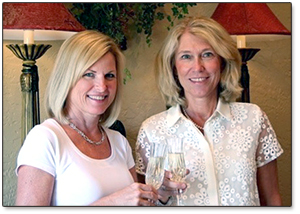 Planning, cooking, entertaining, shopping, and sipping wine are the things we love, especially the sipping wine part.
We share with you our years of tried and true recipes and entertaining tips so you will have as much fun at your celebration as your guests. Yes, it can be done!
We are "The Simple Celebration." We live in St. Petersburg, Florida, which is a fantastic place to call home, and have been friends for over ten years. While raising our children, we worked together on events ranging from small house parties to large fundraising galas. In addition, we have both travelled extensively and have lived in lots of places from New York to Sydney, and everywhere in between! Our wonderfully rich lives have provided us with the experience and confidence to be your guide to home entertaining.
Click your way through our web site and you will pick up some wonderful tips and easy recipes (we only post recipes that are easy to follow and taste fabulous). We will help you organize your guest lists, menus, themes, and decorations with ease. Whether you are having the neighbors over for a casual dinner or you are hosting a large buffet party, we've got you covered.
We raise our wine glasses to you, the host and hostess!
Now let's start planning… and cooking… and entertaining… and sipping wine!