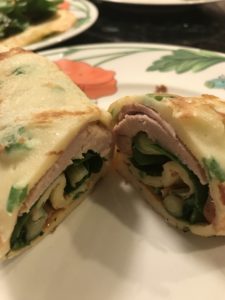 We thought we would pay homage to our Olympic athletes in South Korea with a few Asian recipes for our next series of posts.  Asian ingredients are easily found in the international foods section of the grocery store.
Tight on time?  Grill the meat and reheat before ready to serve.  Also, the pancake batter can be made in advance and kept in the refrigerator until ready to use.
Pork:
1 1/4 lb. pork tenderloin
Salt and pepper
Olive oil
Salt and pepper the meat and drizzle with olive oil.  Grill tenderloin until cooked through.  Let rest 5-10 minutes and thinly slice.  Keep warm.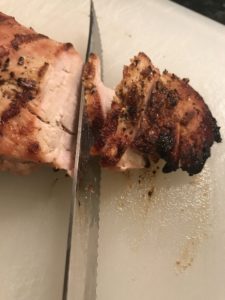 Pancakes:
1 cup flour
1/2 cup rice flour
3 eggs
1 1/2 cups  2% milk
Pinch salt
1 Tablespoon sesame oil
4 green onions, chopped
2 teaspoons chopped fresh chives
Vegetable or Canola oil to grease pan
In a medium bowl, place the flour, rice flour, eggs, milk, salt and oil and whisk until smooth.  Stir in green onions and chives.  Lightly grease a 10″ shallow, non-stick frying pan with vegetable or canola oil.  Pour large spoonfuls of the pancake mixture and swirl the pan to spread the mixture thinly.  Using a rubber spatula, cook for about 2 minutes and flip – should be lightly browned.  Remove from pan and keep warm.  Repeat process 3-4 more times.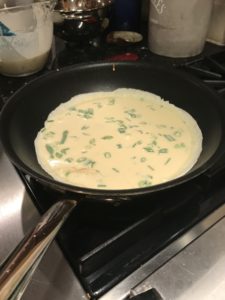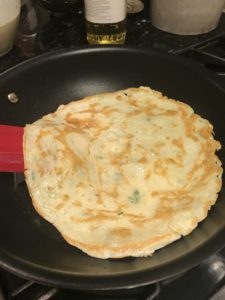 Assembly:
Pork slices
Hoisin sauce
Fresh baby spinach leaves
4 green onion sliced long and thin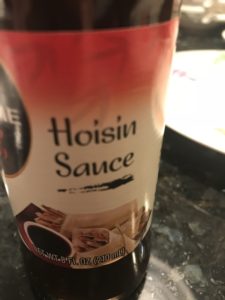 On each pancake, place several slices of pork, spinach and sprigs of green onion.  Top with Hoisin sauce, roll up and cut in half.  Place on plate with seam side down.  Serve with additional Hoisin sauce on the side.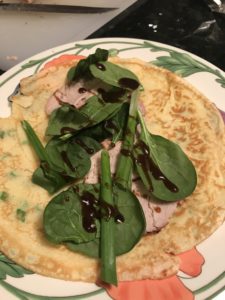 Serves 4.