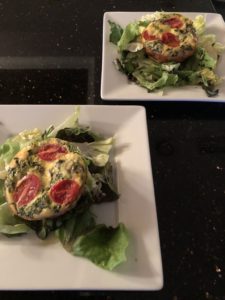 Putting this colorful dish together takes less than 10 minutes.  It has simple ingredients, but has great taste and color!
3 1/2 oz. feta cheese, crumbled
1/4 cup finely grated parmesan cheese
1/3 cup coarsely chopped fresh basil
2 T snipped fresh chives
6 eggs
2/3 cup heavy cream
9 cherry tomatoes, sliced lengthwise in half
Bag butter lettuce
Preheat oven to 350 degrees.  Grease a large six hole (3/4 cup) muffin pan and line bases with parchment paper.  Place cheeses, basil and chives in pan holes.  Whisk eggs and cream in a medium bowl; pour into pan holes.  Top each frittata with three tomato halves.  Bake about 25 minutes or until set.  Let stand in pan 5 minutes.  Place lettuce on six appetizer size plates, top with frittata and enjoy!
Makes 6 servings