Whether you need to bring a side dish to a pot luck, are having a crowd over for dinner, or want to serve a light meal to your family, try this orzo recipe – you won't disappoint!  This dish can be put together the day before needed.  Just bring it to room temperature and serve.  Top the orzo with cooked shrimp or sliced chicken and you will have dinner done!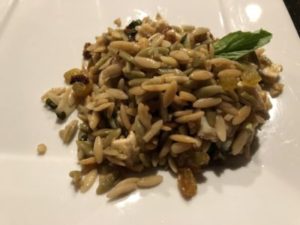 1 1/2 c. orzo (10 oz.)
3 T. pine nuts
1 (14 oz.) can artichoke hearts, drained
1/4 c. olive oil, plus a little more for pasta
2 T. red wine vinegar
1/2 t. freshly ground black pepper
3/4 t. sea or kosher salt
1/3 c. sliced sun-dried tomatoes
1/3 c. golden raisins
1/2 c. chopped basil
2/3 c. fresh mozzarella, cubed
1 t. lemon zest
Cook orzo according to package and drain in a colander.  Rinse with cold water and add a little olive oil so pasta doesn't stick together.
Lightly toast the pine nuts in a skillet, about 2 minutes.  Remove from heat.
Drain the artichokes and quarter.
In a large bowl, whisk the olive oil, vinegar, salt and pepper.  Add the orzo, pine nuts, tomatoes, raisins, basil, mozzarella and zest.  Toss together.  Serve at room temperature.
Serves 6.