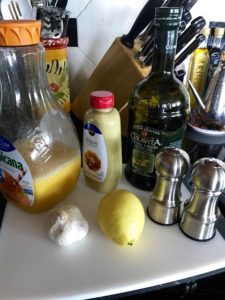 We recently came across this recipe in Cooking Light Magazine.  It has such great, fresh flavor, it can be so much more than a dressing for salad.  It  would be great as a marinade for fish or chicken.  You can also use it as a light sauce on the side of grilled meat or fish.  This recipe will keep in the refrigerator for a few weeks, so you're always ready for a great dressing or sauce!
4 T. good quality olive oil
2 T. fresh orange juice
2 T. fresh lemon juice
1 T. + 1 t. Dijon mustard
1 t. minced garlic
Salt and fresh ground pepper to taste.
Whisk all ingredients in a container and refrigerate.
Serves 4-6 as a dressing.