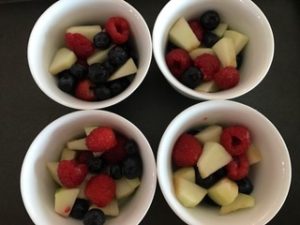 Need a quick dessert that isn't too sweet or too filling after a fabulous meal?  This crumble is just the thing!
2 Granny Smith apples, peeled and diced
10 oz. fresh berries, such as blueberries, raspberries, blackberries
1 T. sugar
3/4 c. flour
5 1/2 T. unsalted butter, additional for the top of crumble
1/8 c. old fashioned oats
1/4 c. hard packed brown sugar
1 T. grated dark chocolate
6 half-cup sized ramekins
Preheat the oven to 350 degrees.  Place apples and berries in a bowl and mix with 1 T. of sugar.  Fill the ramekins halfway with the sweetened fruit.  Using a food processor or a bowl and pastry cutter, add all the remaining ingredients, except the chocolate.  Once combined, add the chocolate to the crumble mix and place on  top of the fruit.  Place a small pat of butter on top of each crumble and bake for 30 minutes until fruit bubbles.  Serve alone or with whipped cream or ice cream
Serves 6.