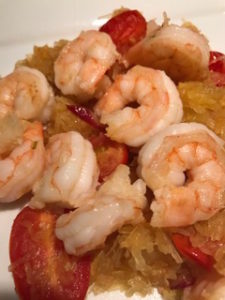 If you've never cooked with spaghetti squash before, we are about to rock your world!  Nothing could be easier – seriously.  Buy it, cut it, cook it, shred it – done!  A perfect pasta substitute.  Believe us when we say you will not miss the taste – or calories – of pasta in this dish.  Full disclosure – this recipe appears in the January, 2017, Cooking Light magazine, but we've changed a thing or two to make it our own.  The recipe yields two large servings.
Spaghetti Squash
Preheat oven to 350 degrees.  Cut a 3 lb. squash in half lengthwise and scrape out the seeds.  Place the halves, cut side down in a large baking dish.  Add 1/2 cup water to the dish and bake for 45-50 minutes, until tender.  Once cooked, let cool cut side up for at least ten minutes.  Scrape the inside of the squash with a fork and presto! spaghetti strands are created!  Set aside.
Shrimp with Rosemary
4 t olive oil
12 oz. large peeled and deveined shrimp
Salt and pepper
1/2 c thinly sliced red onion
1 t minced garlic
3 c baked spaghetti squash
10 cherry tomatoes, halved
2 t fresh lemon juice
1/2 t chopped fresh rosemary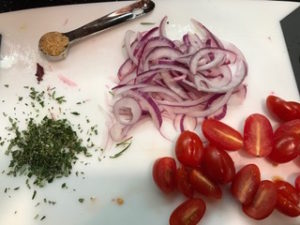 Heat 2 teaspoons of the oil in a medium skillet over medium-high heat.  Season the shrimp with salt and pepper to taste.  Add shrimp to pan and cook until done (4-5 minutes).  Remove from pan and keep warm.  Add remaining 2 teaspoons of oil to pan and over medium-high heat, sauté onion and garlic until onion is tender.  Add squash, tomatoes, lemon juice, rosemary and dash salt.  Cook for a few minutes until warmed through.  Place mixture on a plate and top with cooked shrimp.  Enjoy!