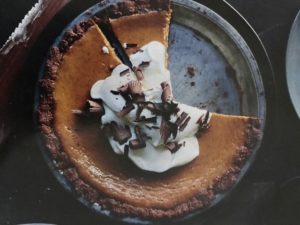 We got together with several of our friends recently and made 18 pies in two hours – including the dishes!  One of pies the group made was a pumpkin with chocolate crust.  There were many steps to the pie filling and was not 'simple,' but the crust was easy.  This is a great crust for you to fill with many types of fillings – pumpkin, chocolate mousse, peppermint cream, you name it!
8 oz. chocolate wafer cookies (33 cookies)
One stick butter, melted
2 T sugar
Preheat oven to 350 degrees  In a food processor, pulse the cookies until finely ground.  Transfer to a medium bowl and add the butter and sugar.  Mix until well combined, then press into a 9-inch pie plate (using the back of a small measuring cup helps form a perfect crust).   Bake the crust for 8-10 minutes, until set.  Transfer to a rack and let cool prior to filling.