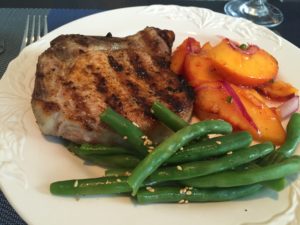 This low-fat, high flavor meal will be on the table in 15 minutes!  The peach salsa is a perfect side dish for not only pork, but chicken or seafood as well.  Add a green vegetable for a pop of color and one beautiful plate!
4 large bone-in pork chops
Sea Salt (we like to use a spicy specialty salt)
Freshly ground black pepper
2 large ripe peaches, peeled and sliced
1/3 c. thinly sliced red onion
1/2 to 1 jalapeno pepper, diced (depending on how spicy you like it)
1 T. honey
1 T. freshly squeezed lemon juice
1/8 t. cayenne pepper
Generously salt and pepper the pork chops.  Heat up the grill and spray grates with grilling spray.  Grill pork chops until cooked through, about 12 minutes.
Mix the peaches with remaining ingredients in a small bowl while pork chops are cooking.  Serve salsa on the side.
Serves 4.