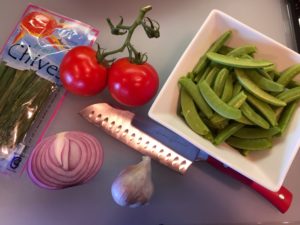 Wow – we made this side dish the other night and it was a perfect ten!  Everyone loved its fresh, bright flavors.  Serve it along fish, meat, chicken, pork – perfect with them all!
12 oz sugar snap peas, de-stringed
1/3 c chopped red onion
2 garlic cloves, minced
1 large tomato, chopped
2 T olive oil
1 T basil, shredded
Place peas in a pan with water and steam over medium heat for 5-7 minutes.  Drain and set aside.  Add oil to pan and saute onions and garlic for 5 minutes.  Add tomatoes and cook for an additional 3 minutes.  Return cooked peas to the pan.  Season with salt and pepper and top with basil.
Serves 4