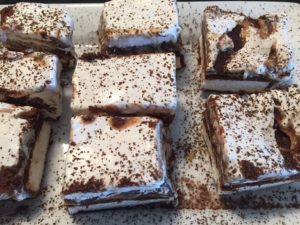 It is way too hot outside to bake these days.  Here is a recipe we had at a recent outdoor party that will certainly cool things off.  Bet you can't have just one serving!
24 ice cream sandwiches
2 containers (8 oz. each) whipped topping
1 jar (12 oz.) hot fudge ice cream topping, warmed so it's easy to work with
1 jar (12 oz.) caramel ice cream topping
1/2 c chopped nuts, optional
Cocoa powder for dusting
Place 12 of the ice cream sandwiches in the bottom of a 9 x 13 pan.  Top with 2/3 of one container of whipped topping.  Next top with 1/2 jar of the caramel and fudge toppings.  Add remaining ice cream sandwiches.  Repeat layers and finish with remaining whipped topping.  Top with nuts and cocoa dusting.  Put in freezer for 2-3 hours and serve immediately.  This feeds quite a few.  Just put the leftovers back in the freezer (lasts a few months) and re-serve.
Serves 24-30