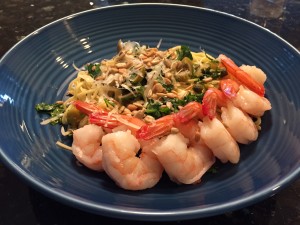 This dish has a ton of flavor and uses ingredients that are very zesty.    Don't fear the anchovy fillets!  They are mashed and add a background of, to use Vicki's words, a salty zing.  The sauce can be made a day ahead and refrigerated.
12 oz. fresh angel hair pasta
4 oil-packed anchovy fillets
1 small garlic clove
2 T. chopped fresh dill
1 t. finely grated lemon zest
1 c. chopped fresh parsley
1/2 c chopped fresh basil
1 c green olives, pitted and halved
3 T drained capers
1/2 c olive oil
1/2 c Parmesan, finely grated (plus more for serving)
2 T. fresh lemon juice
2 T. roasted and salted sunflower seeds
l lb cooked shrimp
Cook pasta in a large pot of boiling salted water, stirring occasionally, until desired doneness.  Drain, reserving 1/2 cup pasta cooking liquid.
Finely chop anchovies and garlic, using the back of a chef's knife, mash the mixture on a cutting board until you have a paste.  Combine paste with dill, lemon zest, parsley, basil, and half the olives and capers in a large bowl.  Chop remaining olives and capers and add to bowl, along with the olive oil.  Mix well, season to taste with salt and pepper.
Add pasta and 1/4 cup reserved pasta liquid to sauce.  Toss, adding Parmesan a bit at a time, along with more pasta liquid as needed, until sauce coats pasta.  Add lemon juice, season with salt and pepper.
Serve pasta topped with shrimp, sunflower seeds and more Parmesan.
Serves 4