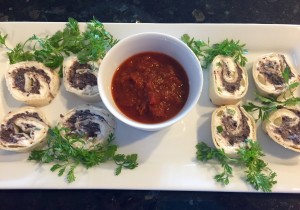 Having friends over and want to serve something easy that can be made in advance?  Whip up this tortilla appetizer,  serve with our great margaritas, and watch the smiles on your guests grow.  Olè!
1 8 oz. package cream cheese, softened
1 c. sour cream
1 c. shredded Mexican cheese
1/2 c. chopped green olives
1/2 t. seasoned salt
1/8 t. garlic powder
1 jalapeño chili, minced
1/2 c. cilantro, minced
1 can (15-oz.) black beans, drained
6 (8 – 10 in.) flour tortillas
Salsa
Beat cream cheese and sour cream until smooth.  Stir in cheese, olives, salt, garlic powder, jalapeño and cilantro.  Cover and refrigerate for at least 2 hours, or overnight.  Place black beans in a food processor or blender and pulse until smooth.  Spread each tortilla with a layer of the cheese mixture and top with a layer of the black beans.  Roll the tortillas tightly and cover with plastic wrap.  Chill for at least 2 hours or overnight.  To serve, cut the ends off each tortilla and discard.  Then cut the tortillas into 3/4 inch slices and arrange on a platter.  Serve with a dollop of salsa.
Serves 8