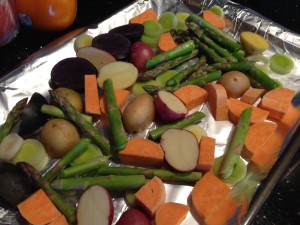 Here is an excellent side dish recipe that looks as good as it tastes!
One sweet potato peeled and sliced into chunks
8 tri-colored potatoes halved or quartered, skin left on
One leak sliced – white and light green part only
One bunch asparagus cut in half
Half lemon for juice
2 – 3 Tablespoons extra virgin olive oil
Salt and pepper to taste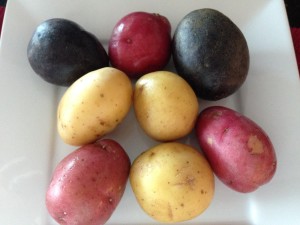 Preheat oven to 400 degrees.
On a baking sheet, place all vegetables except asparagus and drizzle with olive oil.  Sprinkle with salt and pepper and mix.  Cook for 15 minutes, then take out of oven and add asparagus,  Stir and cook for another 10-15 minutes, until potatoes are tender.  Squeeze lemon juice over dish before serving.
Serves 4