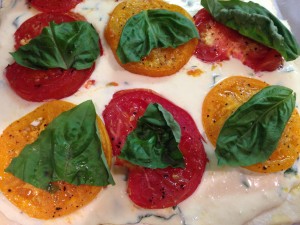 We weren't sure what to call this when we made it the other day.  It's not exactly a tart, but it's not a flatbread either. It's in-between, so let's call it a tartbread!  It's easy to make this recipe into a meal, just add cooked shrimp or chicken before baking.  This makes a great lunch reheated the next day too!
Preheat even to 350 degrees
One large yellow tomato sliced into fourths
One large red tomato sliced into fourths
Cracked black pepper
Olive oil
6 oz. ricotta cheese
3/4 cup grated parmesan cheese
2 eggs
3/4 cup fresh basil, shredded, plus torn leaves for topping
1 sheet frozen puffed pastry, thawed
Place tomatoes on a baking sheet.  Brush each with olive oil and sprinkle with pepper.  Bake for 30 minutes, or until soft and slightly dried.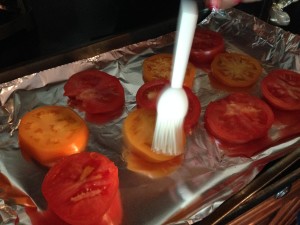 In a food processor, mix ricotta, parmesan, and eggs until smooth.  Stir in shredded basil.  Once tomatoes are done, raise oven to 375 degrees.  Place pastry on a baking sheet lined with parchment paper.  Spread filling on pastry, leaving a 3/4 inch border.  Press tomatoes into filling and place torn basil on top.  Bake for 40 minutes.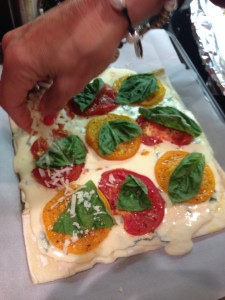 When done, sprinkle with additional parmesan cheese, if desired, and cut into squares using a pizza cutter.
Makes 18 pieces