In Vicki's household, chicken enchiladas are a favorite birthday dinner request.  Her original recipe was time-consuming, so she came up with a few short cuts that make this meal's preparation a pleasure vs. a chore.  Making these in advance?  Put unbaked enchiladas in the freezer and when needed, bring to room temperature and bake.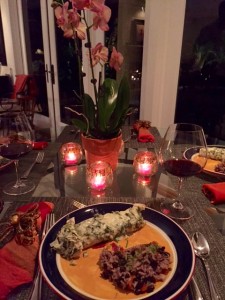 15 oz. frozen chopped (We use the steam in a bag spinach)
6 cups shredded rotisserie chicken (about 1 1/2 chickens)
4 T. unsalted butter
1 large white onion, finely chopped
2 (4 oz.) cans diced green chiles, undrained
3 c. low-fat sour cream
1/4 c. skim milk
1/3 c. water
1 t. ground cumin
Salt and pepper, to taste
12 (8 inch) soft taco sized flour tortillas
8 oz. grated Monterey jack cheese
Preheat oven to 350 degrees.  Butter two 8 1/2 by 11 inch pans.
Cook spinach in microwave, according to directions, and place in a large glass bowl.
Melt butter in a small skillet.  Add onions and sauté until soft, about 4 minutes.
Add onion mixture to the spinach along with green chiles, sour cream, milk, water, cumin, salt and pepper and combine.   Place 1/2 the mixture into a small bowl.  To the large bowl, add the chicken and mix well.  Place the tortillas on a large work surface.  Fill each of the tortillas with 1/12 of the chicken mixture.  Carefully roll up the tortillas and put 6 in each pan.  Top the tortillas with 1/2 of the Monterey Jack cheese.  Top with the contents from the small bowl – carefully spreading to cover the tortillas.  Finally add the remaining 1/2 of the cheese.  Bake until heated through, about 30-40 minutes.
This recipe can be made early in the day and just bake before serving.
Serves: 9-10 people