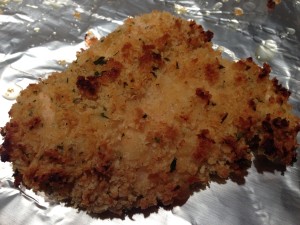 Easy … Easy … Easy.  The marinade comes together in a flash, the chicken sits in the refrigerator overnight (or at least for several hours), and bakes in under an hour.  This is a great recipe for entertaining a crowd, as it can be served at room temperature so you can have fun at your party too!
Marinade:
2 cups sour cream
1/8 cup lemon juice
2 teaspoons Worcestershire sauce
2 teaspoons celery salt
1 teaspoon paprika
1 teaspoon garlic salt
1/4 teaspoon pepper
6 boneless, skinless chicken breasts cut in half horizontally
Mix all ingredients together in a bowl.  Coat chicken in marinade and refrigerate overnight.
1 cup seasoned Panko breadcrumbs
1/4 cup melted, unsalted butter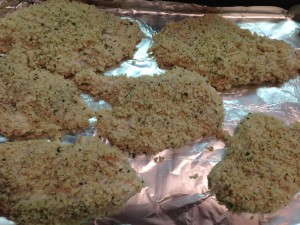 When ready to bake, preheat oven to 350 degrees.  Place breadcrumbs on a plate.  Shake off excess marinade from each breast and dredge in the breadcrumbs.  Arrange on a baking sheet and drizzle with melted butter.  Bake for 45 minutes – no need to flip during baking.
Serves 6-8