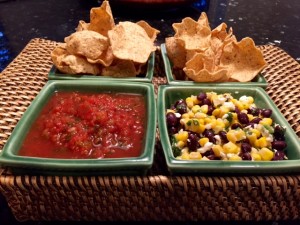 Here's a crowd pleasing dip that will have you two-stepping right out of the kitchen!
3 T sugar
1/4 c apple cider vinegar
1/4 c vegetable oil
1 (15 oz) can black beans, drained and rinsed
1 (15 oz) can shoepeg corn (small, white kernels)
3 scallions, chopped
2 T minced cilantro
1/2 jalapeño pepper, minced
3 oz. (1/3 block) feta cheese, crumbled
Step One – Whisk the sugar, vinegar and oil in a large bowl.
Step Two – Add the black beans, corn, scallions, cilantro, jalapeño and cheese and mix well.
Chill until serving time.  Serve with "scoop" style multi-grain tortilla chips.  Serves 10.
Thanks, Jen Keatinge, for the recipe!