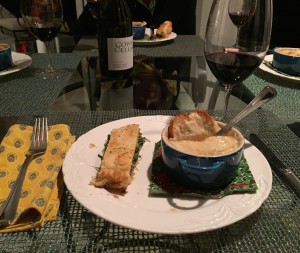 Cold nights, hot soup – life is good and tastes even better!  This recipe is for eight, but you can freeze the "soup" part if you need less servings.  If you are in the market for some attractive, inexpensive soup bowls that work great with this recipe, we found these on the Crate and Barrel website for only $3.95: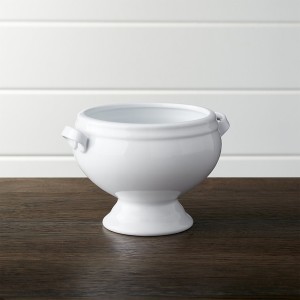 3 Tablespoons unsalted butter
3-4 cloves minced garlic
4 yellow onions halved and thinly sliced
1 leek, light green and white part only, thinly sliced
1/2 cup red wine
8 cups low-sodium beef broth
1/4 teaspoon hot sauce
1 teaspoon Worcestershire sauce
Kosher salt
Freshly ground black pepper
16 slices of baguette bread
12 oz. freshly grated Gruyère (or similar) cheese
In a large sauce pan, melt the butter.  Add the garlic and sautè for about 1 minute.  Add the onions and leek and sautè for about 15 minutes until the onions and leek are soft and caramelized.  Stir often.  Add wine and simmer until wine has evaporated, about 5 minutes.  Add the broth and simmer for 15 minutes.  Add hot sauce and Worcestershire sauce, season with salt and pepper.  Simmer for an additional 10-15 minutes.
Preheat the oven to 425 degrees.  Line a baking sheet with aluminum foil.  Place 8 small soup crocks or large ramekins on the baking sheet and fill 3/4 full of soup.  Place 2 slices of baguette on top of soup and top with shredded cheese. Bake for about 15 minutes or until cheese has melted.  You can broil for a minute or so if you want a brown crust.
This soup is a wonderful accompaniment to our spinach puffed pastry recipe.
8 servings